As Hardik Pandya and Natasa Stankovic renew their vows, Anushka Sharma sends her best wishes
Anushka Sharma sent her congratulations to Hardik Pandya and Natasa Stankovic on their recent second marriage on February 14. The pair previously had a very private court ceremony wedding in 2020. They made the decision to get married again and have a lavish celebration in Udaipur with friends and family. Initially celebrating their nuptials with a magnificent white wedding, Hardik and Natasa later decided on a traditional Hindu ceremony.
Natasa and Hardik shared a joint Instagram post on Thursday. The pair gave their fans a preview of their traditional wedding after posting photos from their white wedding. Anushka showered the pair with love while posting photos from their Hindu wedding on her Instagram story. She also wrote the couple a heartfelt congratulations letter. Her message said, "Congratulations! @Hardikpandya93 & @Natasastankovic_ Wishing you love and happiness forever" followed by a white heart emoji.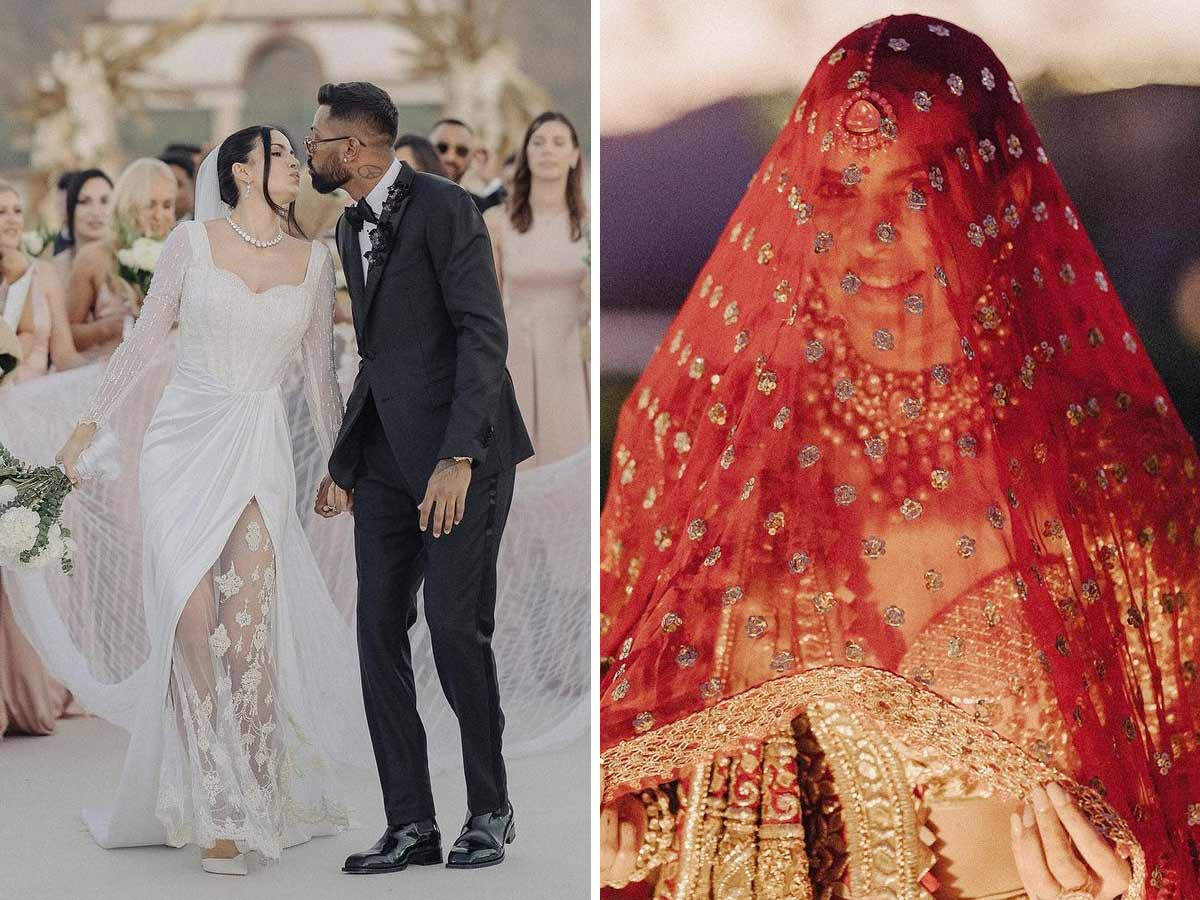 In the meantime, Hardik and Natasa looked stunning in their wedding photos. Natasa wore two costumes, while Hardik wore an off-white sherwani for the rituals. The actress dazzled in a red and gold lehenga for the varmalas and a crimson saree with a lavishly embroidered top for the pheras. Their wedding photos appear to be nothing short of a fantasy. In addition to the images, the pair also wrote: "Now and forever."
Natasa chose a white gown with a 15-foot long veil for their white wedding. She had a mesmerising appearance. Contrarily, Hardik looked sharp in a black suit. They appear to have thoroughly enjoyed their ceremonies based on the photos. They wrote with the images, "We celebrated Valentine's Day on this island of love by renewing the vows we took three years ago. We are truly blessed to have our family and friends with us to celebrate our love."
if( typeof skinningExist !== 'undefined' && skinningExist == true)
document.getElementById('socialsticky').style.display="none";
window.fbAsyncInit = function()
FB.init(
appId : '301265226619562',
session : ", // don't refetch the session when PHP already has it
status : true, // check login status
cookie : true, // enable cookies to allow the server to access the session
xfbml : true, // parse XFBML
oauth: true
);
;
(function(d, s, id)
var js, fjs = d.getElementsByTagName(s)[0];
if (d.getElementById(id)) return;
js = d.createElement(s); js.id = id;
js.src = "
fjs.parentNode.insertBefore(js, fjs);
(document, 'script', 'facebook-jssdk'));