Emily Ratajkowski reveals the true pronunciation of her Polish last name
Emily Ratajkowksi has revealed that yes, we have been saying her Polish last name wrong.
The model and author, 31, revealed in an interview backstage at the Tory Burch show at New York Fashion Week that there is one letter that makes her last name sound completely different in Polish.
According to Ratajkowski, it's pronounced "Rata-kohv-ska", not "Rata-cow-skee".
Watch the clip above.
READ MORE: Bruce Willis' family reveals actor diagnosed with dementia
READ MORE: Surprise replacement announced amid TV host's shock exit
The model also revealed that "Rata-kohv-ska" is the feminine pronunciation, while the masculine pronunciation would be "Rata-kohv-skee". The last name comes from her grandparents, who were born and raised in Poland and later migrated to the US.
Ratajkowski walked the catwalk for the Burch show, having just appeared in a major campaign for the designer with her one-year-old son, Sylvester, who she calls "Sly".
For a daily dose of 9Honey, subscribe to our newsletter here
Further in the interview, the model jokes that "Sly was really the star of the campaign, but I was there too," to which the interviewer jokes back, "I didn't even notice you."
In a surprisingly quirky choice by Tory Burch, Sly appeared dressed as a green alien alongside his mother in the campaign.
READ MORE: Police called over Kanye's fight with photographer
When the photos were released, Ratajkowski fawned over her son, calling him her "little alien superstar."
Ratajkowski gave birth to her son in 2021, and shares him with her now-ex, Sebastian Bear-McClard.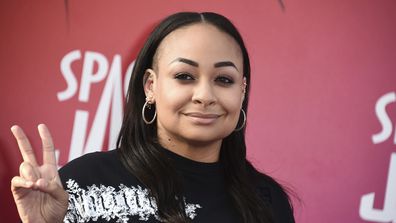 Raven-Symoné reveals we've all been saying her name wrong