How the Strays Trailer Introduces Audiences to a New Man's Best Friend The Talks Today
Most people love dogs. How many of us have social media feeds full of them and other critters? Plus a lot of us grew up with that dreaded Sarah McLaughlin commercial. Mistreating dogs is an effective shortcut to making everyone hate you. Along with good-natured mutts, it's safe to say that Will Ferrell is equally loved. So putting the pups together with the beloved actor makes for an interesting and potentially hilarious premise. That's what we'll be getting with the canine comedy Strays, directed by Josh Greenbaum, set to be unleashed in theaters on June 9.
The film revolves around a happy but oblivious little dog named Reggie, voiced by Ferrell. Reggie thinks he has the perfect life with the perfect, loving owner, Doug (Will Forte). In reality, Doug is a drunken abusive jerk who just wants Reggie gone. Doug is the guy who would be public enemy number one if his treatment of Reggie ever went viral. Doug constantly drives Reggie out to the middle of nowhere and takes off, hoping that the good-hearted little guy will take the hint, but he always makes it back. Doug goes for broke and drops him far off in the city where Reggie links up with a pack of fellow strays and learns the ropes of life on the street. Here's a breakdown of the trailer for Strays.
Man's Best Friend?
The trailer begins with Reggie frolicking through a field chasing a butterfly declaring "Today is going to be the best day ever!" He states his love for the sun, the aforementioned insects, and especially his owner Doug. He states this as he runs through a trash and empty beer can-strewn yard and barks for his owner to bring him in. Doug isn't so cheerful, throwing a few obscenities and an empty tall boy can at Reggie from his cinder block front steps.
Related: Wes Anderson's Obsession With Dogs, Explained
We next see Reggie in the bed of Doug's battered red pickup truck as the cranky owner speeds around a corner. He drops his dog in a field, throws a tennis ball out into the brush yelling "fetch," and then speeds off, leaving the naive Reggie sprinting after him, eventually making it back to Doug's squat. Reggie sees it as a fun game that he wins when he comes back through the doggie door and hears Doug's frustrated F-bomb at his arrival. It cuts to Doug once again dropping Reggie into the truck and speeding toward the city.
Life In the Big City
We next see Reggie trotting down an alley being propositioned by a fellow stray. It's here that he links up with a street-smart Boston Terrier named Bug (Jamie Foxx) who tries to convince the new arrival that his owner has actually abandoned him and that there's no game being played. "I should probably talk to him, I am a therapy dog," says a cone-of-shame-wearing Great Dane named Hunter (Randall Park).
Bug tries to convince Reggie that "off the leash" is the best way to go for any dog. It cuts to the crew picking through a pile of trash and lapping up some discarded alcohol, giving off some 40-Year-Old Virgin vibes. The now drunken pair walks off and past a sidewalk-level reflective surface. Bug proceeds to pick a fight with his own reflection and his friend with the "home perm."
Related: Best Will Ferrell Movies, According to Rotten Tomatoes
The pack is next seen romping through a field of sprinklers and Bug insisting, "You're a stray! You can do anything you want!" Instead, Reggie says he's going back to Doug's, to the dismay of his new friends. His reason is to bite off a certain body part of his cruel former owner. The other dogs are in shock at Reggie's new stance on Doug, and all excitedly agree to join him in his new mission, and it cuts to the classic crew strutting down the street shot.
Hitting the Road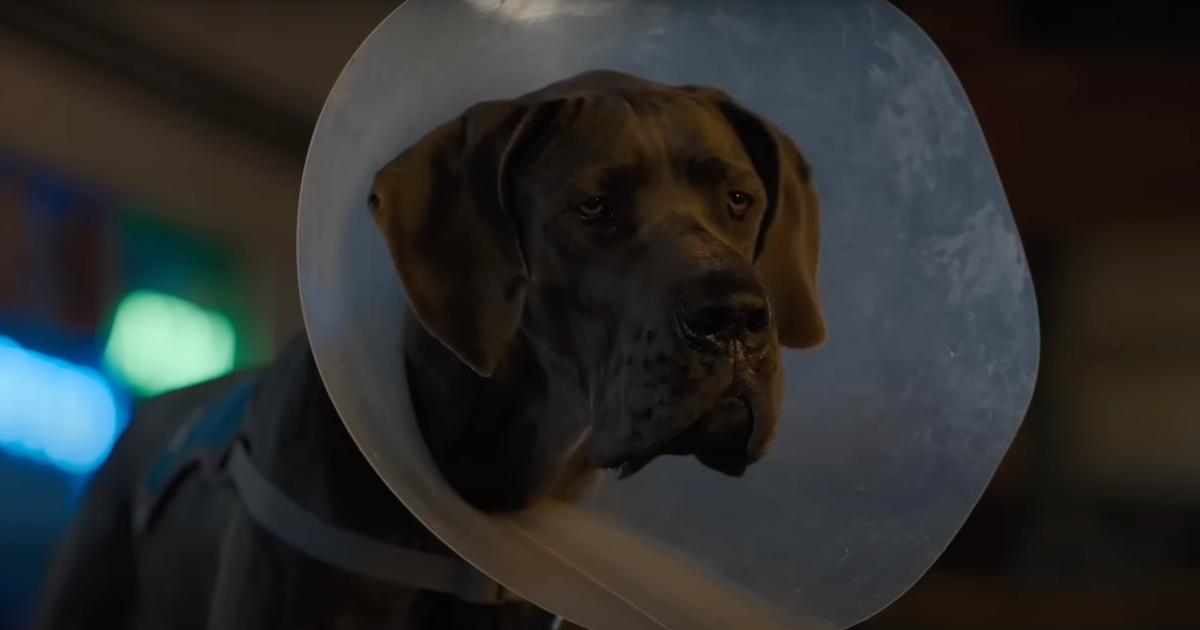 The next scene involves some "bad dog!" behavior involving garden gnomes and an oblivious Reggie trying to learn the ways of the stray. They continue on their journey to the backwoods after Doug, finding their way down a set of railroad tracks. Bug laments being lost and the irritation on his "puppy paw pads." He asks how it could get worse just as a massive hawk swoops down from the sky and takes off with him in its talons. The dogs are seen casually exiting a burning building and standing in a cell as the barred door slams shut.
Hunter is seen knocking down a terrified Doug's door before a scene showing the group chowing down on some wild mushrooms. The hallucinations are hilarious, as one dog is seen by another in a Disney animation form, while Hunter is viewed as a sock puppet with human hands.
The mix of Ferrell, Foxx, and profanity-spewing dogs makes for a humorous trailer. Think a rated-R Milo and Otis or Homeward Bound, just to ruin a few childhood favorites.